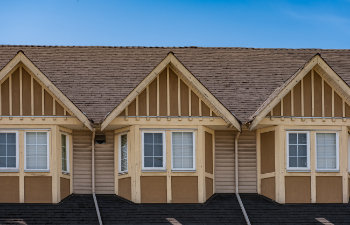 The timeless warmth of natural wood shakes keeps them a highly sought-after product among consumers. Unfortunately, many homeowners don't understand the challenges shakes present, including the product's high maintenance requirements and short life span. Newer eco-friendly synthetic options that address these challenges are available, providing the same architectural detail and charm of wood with modern performance standards and energy efficiency improvements. Although many homeowners are impressed with the appearance of the synthetic shake alternatives, contractors are often hesitant to put their stamp of approval on ease of care and longevity claims.
How Hard Is It to Maintain Synthetic Wood Shakes?
Manufactured with post-industrial plastics, synthetic wood shakes have been tested against extreme weather conditions — so much so that they come with above-industry standards for limited warranty coverage. But those claims don't mean much if the trade-off is hard-to-meet upkeep standards that will frustrate clients.
Thankfully, the long-term roof performance of synthetic shakes comes with a maintenance schedule that is truly low maintenance. While it is not "maintenance-free," a few basic checks once a year and quick responses to minor problems are all that are needed to ensure the roof meets customer expectations.
Annually, tiles should be inspected for physical damage, as should all flashings, gutters, valleys and downspouts. Any debris or blockages should be removed, paying careful attention to signs of moisture staining. If the tiles are dirty or mossy, address the root cause by trimming back trees or other impediments to airflow and sunshine. Use a mild detergent and soft-bristled brush to clean the synthetic shakes. Never use a solvent-based cleaner, and avoid standard pressure washers, which can harm the roof tile.
Aside from the proper personal safety precautions required when working on roofs (especially any height of a wet roof, which can be slippery), these basic checks and maintenance activities are all that is needed to keep a synthetic slate roof in top condition.
Your Supply Chain Experts
Carolina Atlantic is your reliable hub for exceptional roofing materials and accessories. As long-time distributors of the products you need, we recognize the struggles contractors often face when hunting for quality supplies. That's why our team of seasoned professionals is laser-focused on serving local building supply stores across the South and Greater United States. We're proud to offer a wide array of reliable wholesale roofing supplies and accessories, creating a one-stop shop for all your needs.
We know it's your top-notch service and a well-stocked warehouse that keeps your contractor clients returning. We also know our high-quality range of roofing supplies, accessories and expert knowledge empowers you to stay on trend and keep your contractor clients on budget. If you're interested in digging deeper into how we can help you excel and grow, drop us a line today. We're excited to show you how we can cater to all your roofing supply needs.
Posted on behalf of Carolina Atlantic Roofing Supply