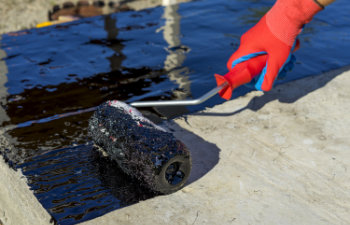 When it comes to finding a cost-effective, durable and low-maintenance roofing material for your commercial property, bitumen roofing is often at the top of list, and with good reason. This reliable solution offers numerous benefits, making it an attractive option for commercial property owners. As a perennial favorite for commercial buildings due to its longevity, durability and cost-effectiveness, this versatile material can be applied to various roof types, including flat and low-slope roofs, making bitumen roofing a go-to option for many commercial property owners.
What is Bitumen Roofing?
Bitumen roofing, also known as asphalt roofing, is made from petroleum and is designed to provide excellent waterproofing capabilities. It is designed to withstand harsh weather conditions, including heavy rain, snow and hail. Bitumen roofs have high resistance to leaks and water damage, and with occasional maintenance, can last for up to 30 years or more.
It is available in two main forms: built-up roofing (BUR) and modified bitumen roofing (MBR). Both types offer their unique advantages, making them suitable for various applications and needs.
Built-Up vs. Modified Bitumen Roofing
Built-up roofing (BUR) is the traditional form of bitumen roofing, consisting of multiple layers of bitumen and reinforcing materials, such as fiberglass or organic felt. These layers are topped with a protective surface, often gravel, to shield the roof from weathering and UV radiation. BUR systems have been used for over a century and are known for their exceptional durability and long lifespan.
Modified bitumen roofing (MBR) is a more modern alternative to BUR systems, featuring sheets of modified bitumen reinforced with polyester or fiberglass. These sheets are applied in layers, with the seams sealed using heat, cold adhesives or self-adhesive technology. MBR systems offer enhanced flexibility, easier installation and superior resistance to temperature fluctuations, making them an attractive option for many commercial property owners.
Partnering with Carolina Atlantic for Your Roofing Needs
Carolina Atlantic understands the importance of local roofing suppliers providing high-quality, reliable products to support the commercial building industry. With our ever-expanding network, we serve as a vital link between vendors and dealers, ensuring that local roofing supply stores remain well-stocked with the finest products, accessories and materials.
By partnering with Carolina Atlantic, you'll gain access to a reliable supply chain and dependable roofing solutions to help your business thrive. Reach out to Carolina Atlantic today and discover the benefits of partnering with a trusted roofing supply expert.
Posted on behalf of Carolina Atlantic Roofing Supply