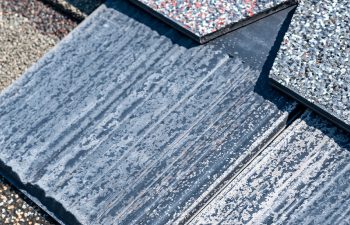 While both are shingles, there are significant differences between asphalt and composite materials. Keep reading to learn more about these key differences that you should keep in mind when choosing the best product for your next project.
Cost
The first difference many homeowners will notice is the cost difference. Asphalt shingles are typically half the cost or even lower than composite ones, making them a more affordable option. While composite ones cost much more, they come with additional benefits.
Material
Asphalt shingles, as the name suggests, are made of asphalt. You can see the small granules of asphalt on the surface. Composite shingles can be made of many materials, from synthetic polymers to various recycled ones.
Appearance
Whatever they are made of, composite shingles are designed to resemble the real thing, whether shaker shingles or slate tiles. Asphalt shingles, however, usually look relatively the same. You may have some choice in color or design, but most look very similar.
Weather Resistance
Another way in which asphalt and composite shingles are different is their weather resistance. While asphalt shingles are treated for resistance to water and algae, they cannot withstand strong winds as composite ones can. Composite shingles are also more resistant to UV rays and fading over time.
Energy Efficiency
Just like asphalt roads that retain heat, asphalt roofing shingles generate heat during the day and particularly in hot weather. This can transfer heat inside the home, making it more challenging to cool during the summer. Composite shingles are more energy efficient, usually leading to lower energy bills year-round.
Lifespan
Asphalt shingles start to break down over time. You'll begin to see the granules flaking off and landing on the sides of your home first, and then shingles may start coming off during bad weather. Comparatively, composite shingles are a much bigger financial investment upfront but will last longer than asphalt ones.
Warranty
Because of the expected lifespan of each type of shingle, you can expect a much different warranty. Asphalt shingles will usually be covered by a 20- to 30-year warranty against manufacturer defects. A more extended warranty on higher quality shingles may be available. Composite roofing may come with a lifetime warranty, meaning that it's covered so long as you own the home.
We can source the finest asphalt roofing shingles, as well as various types of roofing supplies and accessories, at wholesale prices, to keep your client contractors coming to your local builder's supply store for all their needs. Contact us today to partner with us as your reliable supply distributor.
Posted on behalf of Carolina Atlantic Roofing Supply