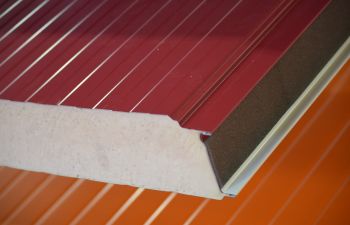 When it comes to commercial roofing, choosing the right insulation material is critical to ensuring the longevity and energy efficiency of your building. One common decision that contractors face is whether to use extruded polystyrene (XPS) or expanded polystyrene (EPS) for their roofing insulation. Both materials have their advantages and disadvantages, so, which option is best for your commercial roof?
Extruded Polystyrene (XPS) vs. Expanded Polystyrene (EPS)
Extruded polystyrene (XPS) is a closed-cell foam insulation material that is known for its high compressive strength, moisture resistance and thermal efficiency. It's often used in commercial applications because it can withstand heavy loads and resist water absorption. XPS is also highly resistant to thermal drift, retaining its insulating properties for a long time. However, XPS is typically more expensive than EPS, so it may not be the best choice if you are working within a tight budget.
Expanded polystyrene (EPS) is a lightweight and more cost-effective insulation material than XPS. It is made by expanding polystyrene beads and then fusing them together to form a solid, rigid board. EPS is known for its excellent thermal efficiency and its ability to resist moisture and thermal drift. XPS is often selected as a commercial roofing material when insulation budgets are tighter, and the roof does not need to withstand heavy loads.
Choosing the right insulation material for your commercial roof is a critical decision that can impact the energy efficiency and longevity of your client's building. Having a dedicated roofing partner can ensure you get the products and advice you need when you need them.
Carolina Atlantic is Your Commercial Wholesale Roofing Partner
At Carolina Atlantic, we understand the challenges that contractors face in finding quality roofing materials and services in one place. That's why we've made it our mission to provide local building supply stores with everything they need to stock the products their contractor clients need to get the job done right.
Our team of experienced professionals is dedicated to providing the highest level of customer service and support. We work closely with local building supply stores to understand their unique needs and provide reliable wholesale roofing supplies and accessories under one roof.
Contact us today about our high-quality selection of XPS and EPS roofing materials your contractor clients will keep coming back to use over and over again.
Posted on behalf of Carolina Atlantic Roofing Supply