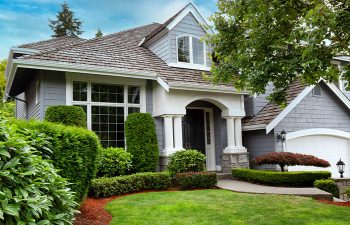 The roof forms an integral part of any home. More than just a covering to keep out rain and weather, it forms a complete system that joins with other building components for stability and safety. Most homeowners only think about what the roof looks like and if it is appealing. This is an important consideration in roofing materials that should be weighed by builders and roofing contractors, in addition to the various other concerns with longevity and performance.
Home Roof Styles
Home roofing styles have evolved throughout the centuries as tastes or preferences of consumers have developed. Certain styles of homes can accommodate less traditional or fancy roof styles, while most homes stick with the tried-and-true asphalt shingle system. Even this time-tested option now comes in various colors and styles to meet consumer preferences.
Let's briefly explore the popular residential roofing options of today.
Shingles
As the most widely used home roofing system, almost any residential roof, regardless of pitch and style, can accommodate asphalt shingles. Known for durability and superior water resistance, they are available in three basic types: 3-tab (Strip) shingles, Architectural or laminate (dimensional) shingles and Luxury shingles.
Shakes
Cedar shake roof shingles are popular options for many homes, lending them a rustic appearance while offering superior protection against the elements. Different styles of cedar shake roof shingles can be used as roofing material or siding. Shakes come in a wide range of options, by cut, material or treated and non-treated varieties.
Tile
Stone slate roof tiles provide superior protection against weather, abuse and aging, and can last up to 200 years. Slate tiles are available in heavy natural stone or composite material options and can be shaped into various sizes. Different shapes, textures and colors are available for use in patterns or other custom applications.
Metal
Metal roof systems for homes are widely popular, and modern components are available in a huge inventory of colors, finishes and gauges. Even homes with steep angles can accommodate a metal roof. Newer products can last 50 years or more with proper care.
Sourcing Our Retail Partners with Wholesale Roofing Supplies
Carolina Atlantic is a leading two-step distributor sourcing numerous retail construction and roofing supply stores throughout the South with top-quality wholesale residential and commercial roofing supplies. Contact us to learn more.
Posted on behalf of Carolina Atlantic Roofing Supply