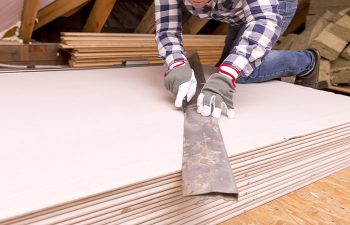 GYPSUM premium grade wallboard is a popular and versatile interior and exterior building component used in both residential and commercial construction applications. Erroneously called "Sheetrock" on a frequent basis, GYPSUM wallboard is actually a modern type of wallboard covering. Sheetrock is a brand similar to GYPSUM but is not an identical product. And, as most experienced builders know, GYPSUM wallboard is used in more ways than interior wall coverings and ceilings.
What is GYPSUM?
Gypsum is a type of soft, sedimentary sulfate rock that forms naturally underground from various sources. While it is mined and used in many ways, the primary use is for various types of wallboard construction materials. In addition to its ability to be used both indoors and outdoors, GYPSUM wallboard is manufactured in long sheets that can be cut, shaped, nailed, screwed, sanded, painted and it works in many hard-to-fit shapes and areas.
The GYPSUM sulfate material is mixed into a plaster that is compressed and formed into flat sheets that can then be used as needed. Different grades of GYPSUM board contain certain additives and components to make them suitable for specialty uses, such as improved fire resistance and mold prevention.
CertainTeed GlasRoc® GYPSUM Drywall Products
Carolina Atlantic is a leading two-step distributor of wholesale CertainTeed brand GlasRoc® GYPSUM drywall products for residential and commercial building use.
GlasRoc Exterior Sheathing – this product is flexible enough to bend over curved surfaces while providing excellent long-term protection against weather exposure underneath exterior coverings.
GlasRoc Shaftliner – shaftliner boards are noncombustible and fire-resistant for use in long shafts and in firewalls, featuring a moisture-resistant core and high mold resistance.
GlasRoc Tile Backer – this wall and ceiling tile substrate is paperless and well-suited to moist applications where tile is used, such as kitchens and bathrooms.
GlasRoc Interior Drywall – this interior drywall product has superior moisture and mold protection and features tapered edges for easier installation. It scores, cuts and fastens easily to wood or metal.
Local area construction retail supply stores throughout the South and across U.S. rely on Carolina Atlantic to source the finest products and accessories for all manner of residential and commercial construction. Contact us today to learn more about CertainTeed GlasRoc GYPSUM drywall products and accessories, and many other quality roofing and building products.
Posted on behalf of Carolina Atlantic Roofing Supply