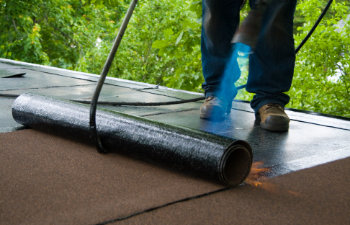 As consumers become more cost-conscious while searching for eco-friendly products to complete renovations, elastomeric coatings can provide the value they are searching for. An often-overlooked alternative, these products have been used for decades and have a proven track record of success. Coating an existing roof goes beyond simply applying an elastomeric coating. It requires the expertise of qualified roofing contractors who understand the product and application process. As more consumers become aware of the elastomeric option, roofing contractors will look to their local supply stores for the product and assistance in selecting the correct options.
Elastomeric Polyurethane Sealant vs. Bitumen
While both products have their own merits, identifying the distinct advantages that elastomeric polyurethane sealants bring to the table is key to understanding why it may be a better option in some cases.
Since elastomeric polyurethane sealant can be applied over existing bitumen and other types of roofing, it is a roofing breakthrough in weatherproofing and durability. Its elastic properties mean the sealant is less likely to crack during extreme weather variations, unlike bitumen, which often suffers from this issue in climates with hot summers and icy winters. In addition, many elastomeric formulations offer solid fire-resistant properties.
While it does have a higher upfront investment, it generally has lower maintenance costs, since it is less prone to cracking and blistering. This makes it a great choice in the long run.
Is it Truly Eco-Friendly?
Water-based elastomeric roof coatings are a viable alternative to redoing a petroleum-based bitumen roof. Since the coating can be applied to many roofing surfaces, it can prolong the life of an existing roof, reducing waste. However, unlike some materials, this waste reduction does not have to compromise the revenue stream of roofing contractors, as they can offer the elastomeric coatings as a complementary or stand-alone product. This provides a win-win situation for both consumers and businesses.
A further eco-friendly benefit is its sunlight-reflecting properties. In areas with extreme heat, reflecting the sun's rays away from the roof can significantly reduce energy consumption and related costs. However, although white is the best-known color, the product comes in various hues that can enhance any building's exterior. With all of its favorable properties, elastomeric polyurethane sealant is well worth considering.
Carolina Atlantic Wholesale Roofing and Building Products
As a leading two-step distributor, Carolina Atlantic sources the best quality products at the best prices for locally-owned roofing and construction retail supply stores. Keeping your warehouse stocked with the products your contractor clients need to keep their customers satisfied is one of the keys to increasing client retention. By partnering with us, you'll gain access to a reliable supply chain, excellent pricing, easy ordering and expert team members who can help you with product information and specifications. Contact Carolina Atlantic today about how we can help you stay competitive and successful.
Posted on behalf of Carolina Atlantic Roofing Supply